What our customers have to say about us: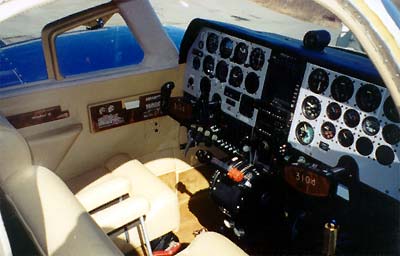 Just one look at the panel of the award wining 1960 Cessna 310D, N6817T,
should be testimonial enough AND it all works!

Thanks to Jeff Rothman at Direct Avionics, Gnoss Field, Novato, CA (DVO)
AirVenture Oshkosh 2002
Grand Champion • Contemporary
Sun'N Fun 2003
Contemporary (1/1/56 To 12/31/67)
Outstanding in Type • Cessna 310, N6817T
Paul & Valerie Erickson
E-Air LLC
---
"Direct Avionics has undertaken a very complicated avionics installations in my Bonanza. There were lots of problems configuring the equipment and Jeff accomplished the work in a timely and professional manner, sticking with the job until it was done to my satisfaction."
Richard Pritzker - A-36 Bonanza
---
We purchased a low hours 1978 twin engine Cessna 414 three years ago and have been upgrading the avionics ever since. All of our work has been done by Jeff Rothman dba Direct Avionics at Gnoss Field in Novato, CA. Jeff has done an excellent job not only with installation but also with ongoing support and troubleshooting. His advice about which items are essential and/or need replacement is invaluable. He also will tell us when he thinks something is not necessary or cost effective. On several occasions we have been able to assist in the removal of some items to reduce cost. On top of that, he is very easy to work and communicate with. We would not think of using anyone else. We have recommended him to several friends and would be happy to discuss his work at anytime.
Jim Duckworth - Cessna 414
---
I called on Direct Avionics to update the avionics in my T206H. I now have a full glass cockpit, which was delivered on time, on budget and the quality is exceptional! I have recommended Direct Avionics to my friends and will continue to do so. Take a look at the before and after pictures. I would bet that you will be as impressed as I am
Norman Pease - Cessna T206H